Description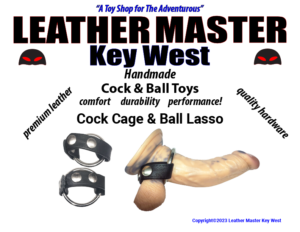 Our Cock Cage & Ball Lasso provides performance and durability with a uniquely comfortable shaft ring combination that will really make you stand out in a crowd!   
Fashioned with black 5/8″ wide triple-fold garment leather strapping, the Cock Cage & Ball Lasso has a metal shaft ring which slides down to the base of your penis, and  a leather strap to "lasso" your balls to the ring.  Very comfortable! 
The leather strap is one-size fits all, and you select a metal ring to suit the girth of your penis at its base.  Choose from three ring sizes; regular (1.5″), large (1.75″), and XLarge (2.0″). The Regular ring will accommodate penis girth up to 4.5″; Large will accommodate penis girt up to 5.25″, and XLarge will accommodate penis grith up to 6.25″. 
What size shaft ring do you need?  Shaft rings are sized similarly to cock rings by internal diameter.  You will need to measure the circumference around the base of your penis to calculate the diameter.  Using a measuring tape, wrap it snugly around the base of your cock and note the circumference measurement.  If you do not have a measuring tape you can use a piece of string and a sharpie to measure the circumference.  Divide the circumference by 3.141592 to calculate the approximate cock ring diameter size. 
What is a cock ring? A cock ring or cockring (aka C ring, erection ring, penis ring, shaft ring, tension ring, or Arab strap) is a ring worn around the penis and scrotum.  A cock ring works by restricting blood flow out of the penis to encourage a stronger and longer-lasting erection, providing increased pleasure.