Description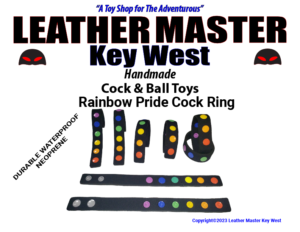 Leather Master Key West *Exclusive* Rainbow Pride Cock Rings are a unique addition for any toy collection.  Fashioned from durable, waterproof neoprene, this snap cock ring is made for comfort and visibility!  Fashioned with 3/4″ width neoprene our Rainbow Pride Cock Ring will fit between 1.25″ and 2.25″ in diameter, so one size-fits-most!
What size do you need?  Cock rings are sized by internal diameter, average being between 1.5″ and 2″.  You will need to measure the circumference around your cock and balls to calculate the diameter.  Using a measuring tape, wrap it snugly around your cock and balls and note the circumference measurement.  If you do not have a measuring tape you can use a piece of string and a sharpie to measure the circumference.  Divide the circumference by 3.141592 to calculate the approximate cock ring diameter size. 
What is a cock ring? A cock ring or cockring (aka C ring, erection ring, penis ring, shaft ring, tension ring, or Arab strap) is a ring worn around the penis and scrotum.  A cock ring works by restricting blood flow out of the penis to encourage a stronger and longer-lasting erection, providing increased pleasure.